I had just added this book to my TBR shelf in Goodreads when I saw the announcement about this tour, so of course I signed up right away! XD
Title: Back to You
Author: Priscilla Glenn
Release Date: October 20th 2012
Genre: Contemporary Romance
Age Group: Adult with YA crossover
When Lauren Monroe first laid eyes on Michael Delaney back in high school, she had every reason to stay away from him; within minutes of their first encounter, his volatile actions confirmed his notorious reputation. But Lauren saw something in him that caused her to question his bad-boy persona, and against her better judgment, she took a chance. She had no way of knowing that the unlikely friendship they formed would become so important to her.
Or that it would end so painfully.
Eight years later, when Lauren begins her new job at Learn and Grow Day Care, Michael is the last person she expects to see. Refusing to revisit the hurt and confusion of their past, Lauren vows to keep her distance from him. But staying away from Michael proves to be more difficult than she thought, despite her lingering grief and her instincts for self-preservation.
As Lauren and Michael recall the friendship that changed them forever and the events that tore them apart, will they finally be able to heal? Or will the ghosts of Michael's past prove to be too much to overcome?
I had high expectations when I started reading this book—thanks to a well-written positive review I'd read—and I was nervous because expectations almost always led to disappointments. Thankfully, Back to You didn't just meet those
—it exceeded them.
For me, what made this book a solid hit were the two main characters, Lauren and Michael. At first glance, they were total opposites—the smart, kind, and beautiful girl, and the scary, temperamental guy who everyone avoided. Two very different people but both of whom I very much loved and wholeheartedly cared for.
I liked Lauren because although she got excellent grades and did gymnastics, she still managed to party and be a normal teenager. But I loved her for her genuine kindness; she saw the good in everyone—not just in Michael—and didn't care about what everyone else said.
Then we have Michael, the moody loner who preferred to keep people at a distance. He tried to scare her away by showing his true self, but Lauren proved she was there to stay. As the story unraveled and I learned the reasons behind his actions, the more my heart broke. God. I just wanted to hug him... for a whole day.
Their story was written in alternating chapters of the present and past, and I loved how after intriguing the readers in the present, we are taken straight to the event in the past that caused it. It was also in this way that we are acquainted with their romance, which always left me craving for more.
Having read this in less than a day—and without sleep, too—believe me when I say that Back to You was a real page-turner. Halfway through, I started feeling nervous for the ending, but Glenn couldn't have concluded this gripping story of understanding and forgiveness better.
MY FAVORITE PART was the epilogue, hihi.
RATING: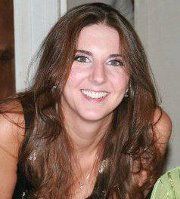 About the author:
Priscilla Glenn lives in New York with her husband and three beautiful children. She has been teaching English Language Arts at the middle and high school levels for the past eleven years. Glenn has written three books, although Back to You is her first published novel. Her guilty pleasures include great books, good wine, anything chocolate, and Robert Pattinson :)
a Rafflecopter giveaway
Follow the tour here!